Whiskey Creek Brush Camp - Part I
On the road…again!
Afghanistan to Zambia
Chronicles of a Footloose Forester


By Dick Pellek
Whiskey Creek Brush Camp
Idaho
Part I
Footloose Forester considered it a privilege and an opportunity to explore as a hitch-hiker. So, there was little hesitation as he turned his eyes north and began his first hitch west of the Mississippi to the presumptive rendezvous town of Grangeville, Idaho and headquarters of the Nez Perce National Forest. "On the Road…Again!" might become a letterhead logo in decades yet to come, but getting on the road with his duffel bag strapped to his back was a passion that always yearned to surface. 
Memories of the details are now quite dim after 50 years, but the brightness of his first long adventure as a lone wolf is a pleasant episode with many, many fond gems of reverie that he wishes to remember.
The Footloose Forester already had lots of experience as a hitchhiker, a practice that may have been frowned upon where he lived, but was nonetheless so common that he routinely hitched back and forth to college, about 40 miles from home. So, getting started toward Grangeville began just as soon as he emerged from the Union Pacific terminal in Boise. He doesn't remember the twists and turns in the city, but retains flashes of forest vistas, long stretches of narrow mountain roads and an occasional water fall.  He arrived in Grangeville at dusk, with just enough time to make a phone call to the Red River Ranger District where he had accepted the job on a brush crew.
The Ranger in charge didn't sound too happy; perhaps because he knew that he would be the one driving the 60 miles to fetch the skinny teenager who arrived on foot.  Footloose Forester was also bootless that first week.  He had planned to buy proper logging boots in town the following day, but somehow that simple plan was overlooked as Dan V. Montgomery, the District Ranger, wanted to get back on the road early. Perhaps he assumed that Footloose had boots in his duffel bag, but when he learned that it was only sneakers, he got angry. 
So instead of going off to cut and stack brush with the other swampers at the Whiskey Creek Camp, Footloose was assigned to dig the water line leading from an old mine shaft and divert it to a shower house and the cook house, both of which had not yet been built.  He also helped to build both small buildings. Under the direction of the forest's regular carpenter, and the sawing and hammering of three or four other swampers, the simple wooden shacks went up pretty fast.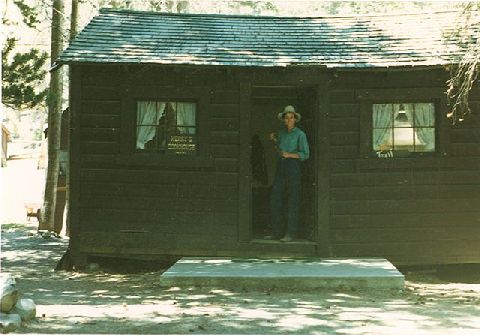 There were no windows in our humble cookhouse
In those days we were bone tired when we returned from the woods.  Camp life consisted mostly of washing off the grime of the day, and then going down to the cook house to eat huge steaks that Louie Asker cooked up for us, at least four times a week.  Louie was a sometime cook who accepted the lonely job of living for a few months on a ridge spur in the middle of the woods.  We forester types thought it was a fitting way to live, but we also thought that Louie missed the more active life in town.  But Louie always looked out for us, one reason why he served steak so often.  They were so big; that they always drooped over the edge of the plate.
Another thing that Louie did was to brew tea in one pot and coffee in another pot. The coffee was always fresh, but not everyone was a tea drinker, so at the end of the day Louie checked the contents of the tea pot to see if he needed to brew more.  He added more loose tea to the pot and filled it up.  He continued to add loose black tea all week long, and only emptied the pot once a week. Footloose Forester thought that Louie's way of making tea every day would not be tolerated by most people, but he, himself, so loved that strong tea that he would not want it any other way.  Ever since those days at Whisky Creek brush camp, Footloose Forester has preferred strong black tea to any other kind.
Our rough camp did not have electricity, so we all depended upon either kerosene lamps or the much brighter Coleman lanterns.  After dinner we sat around to talk or to read for a few minutes.  If you were not close enough to the lamp, even reading was a constant strain on the eyes.  Later on, a few of the guys warmed up to playing gin rummy, the only card game that everybody liked well enough.  It may be hard to believe now, but most of the time in those first few weeks when the camp was barely livable, we were just looking forward to hitting the sack, such was the bone weariness we all had.  Average bed time?  From 7 PM to 7:30 PM.  It was already dark by that time, even considering the longer days of summer and daylight savings time. Our geographic location in the panhandle of Idaho was actually in the Pacific Coast time zone, whereas most of Idaho was located in the Rocky Mountain time zone.
Related Posts
Comments
No comments made yet. Be the first to submit a comment