How Google Earth Brings The World To Your Computer
Hints About How Google Earth Brings The World To Your Computer
(E-Mail Notes To A Friend)
By DikDik Pellek
Dear John, On the stimulus of a single beer, I am entering into an ethereal high. So, let me proceed.... Google Earth is so powerful that I have been able to revisit the exact path to the top of Mt. Whitney, even after 50 years; and to properly identify the trail we took to the top of Kilimanjaro. If someone asks, you will be able to draw a red line from the bunkhouse to the outhouse, at 16,500 feet of elevation.
There are a dozen stick pins on the maps in my files; to help explain about the places where we lived, worked and did field projects. The red line trails through the jungle in Indonesia are important because it is insufficient to try to describe them without some way to trace them as they wander here and there. There are historical archives so you will be able to see before-after photos. There are hundreds of places I want to visit on Google Earth; and places I want to revisit.
When you have Google Earth installed, we will be able to exchange photos of anyplace, at all. When you are up to speed, I'll guide you on a street level tour of Honolulu, including a 360 degree pan of all the places that have the camera files. That includes seeing the cute tourists in shorts and wearing Hollywood sunglasses. No joke! Finally, if you like, we can use latitude and longitude coordinates to start a street view tour.
On the other hand, the competitors in the computer mapping game have made great strides. When I searched through Bing.com maps the other day, I was able to see the spot where I would like my ashes to be spread, then to pan in any direction. That was when I confirmed for a third time, that the trail up the face of the Grey Wall is the best one to take to get to Lake Aloha. As far as I know, the Bing maps do not require Google Earth, but the coverage does not extend to other countries with the same depth of options. Getting back to Google Earth, if you have a joystick you will be able to fly from one destination to another much quicker. That includes being able to land at the local airport. Of course, you have to decrease your speed and use flaps to land without crashing.
Now, for that second beer so I can continue to fly. Oh, I might have mentioned that with Google Earth and a joystick you will be able to launch a paraglider from the rim of a volcano in Cape Verde and land on the beach a few miles away. Of course it will be a simulator but guess who invented the simulators and put in the parameters? Pilots...and they say that modern computer flight simulators are very close to the real thing--minus the queasy stomachs.
Cheers, DikDik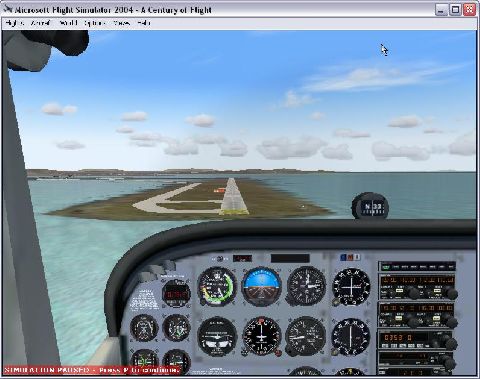 Flight simulators work with computer keys, but a joystick is far easier
When you ask for hints, I tend to take it as a challenge. Since I think that Google Earth is such a powerful tool, I am more than happy to suggest hints. First off, I think that transmission of Kmz files (eg.,kmz file extension type) is not automatic but Google accepts that type of file with their suite of software products. So I think that it is necessary to have Google Earth installed in order to read the Kmz files that are sent. On the other hand, I know that when you have a map scene that you want to save, you have the option to save the scene in JPG format. With this email, I am attempting to send you a map scene that I did save in JPG format. It was captured in Google Earth and saved in JPG format, in addition to the default Kmz file format.
The other issue is the choice of email programs. My old faithful Netscape works almost every time with attachments, so this one is being initiated in Netscape and the file I want to attach is from my hard drive. As good as Google Earth is, the Gmail has a few problems. As it turned out, the info you got was transmitted by Gmail--by default, so I had no control over the problem with attachments.
So here is a .kmz scene of our house in Pennsylvania. Next time, you can send me a scene of your new house, unless I beat you to it. One other thing, if you zoom into my street address with your new Google Earth software, disregard the white car in the driveway. That was our old one, proving that Google Earth indeed does use satellite photos that may be out of date, but are still useful.
Cheers, DikDik
Related Posts
Comments
No comments made yet. Be the first to submit a comment