On the road…again!
Afghanistan to Zambia
Chronicles of a Footloose Forester
By Dick Pellek
Travels By Train
On his first travels west of the Rocky Mountains, the Footloose Forester had a premonition that he would never again be as happy as he was in the mountains. Seeing the Rockies for the first time was from the window of a train as the Northern Pacific diesel began to lumber up grade toward the Wind River Range in Wyoming. Footloose Forester was lucky enough to have a round-trip rail pass to travel anywhere in the United States, thanks to the employment status of his father. His dad was a switchman on the Delaware Lackawanna and Western Railroad in New Jersey and he had the privilege of obtaining a pass for any member of his family to travel free, once a year, to anywhere in the country. As far as he remembers, however, no other family member ever availed themselves of the privilege of traveling to see the country by train.
Getting started was easy enough; the station where he boarded was only half a mile from where they lived in New Jersey. The DLW tracks led first to Buffalo, New York where he had to change trains for Chicago. There, he needed to change again to the Santa Fe line to Omaha, Nebraska and then to the Union Pacific route to Boise. That was as far as he would get by rail. His destination was Elk City, Idaho, a few hundred miles north. The next leg was going to be an adventure and one he was looking forward to. Many people consider being thousands of miles away from home and without transportation as being stranded. Footloose Forester considered it a privilege and an opportunity to explore. There was little hesitation as he turned his eyes north and began his first hitch to the presumptive rendezvous town of Grangeville, headquarters of the Nez Perce National Forest. "On the Road…Again!" might become a letterhead logo in decades yet to come, but getting on the road with his duffel bag strapped to his back was a passion that always yearned to surface.
Memories of the details are now quite dim after 50 years, but the brightness of his first long adventure as a lone wolf is a pleasant episode with many, many fond gems of reverie that he wishes to remember. In the following year there would be another adventure or two while riding the trains.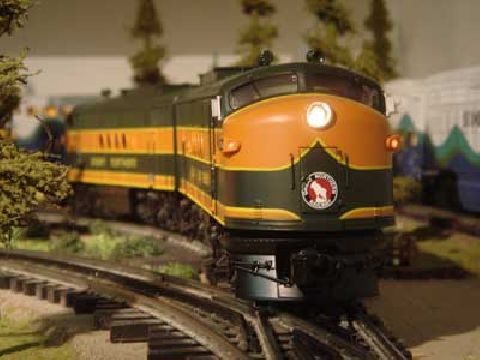 Having a railroad pass to travel anywhere in the United States was part of the plan to make a summer adventure in a new state after his sophomore year at Rutgers. He thoroughly enjoyed the previous summer working on the Nez Perce National Forest in Idaho, but something deep inside him always wanted to see what was beyond the next mountain, rather than to return to the place he already knew. Some folks take vacations to the same place, year after year. The Footloose Forester knew that such a choice was something he would not want for himself. When he got the offer of a job on the Kootenai National Forest through the Forestry Department at Rutgers, he eagerly took it. Getting there or close by, on a train, was going to be another adventure.
The first couple of legs were the same as the previous year: Netcong to Buffalo; then Buffalo to Chicago. At Chicago he had to change to the Burlington Northern line to Minneapolis; and part of the way was along the west bank of the Mississippi River. He delighted in recognizing the deep loess banks at Council Bluffs, Iowa. They were described during his geology class as Aeolian deposits transported by wind from more than a thousand miles away. Such morphological features were always somewhat mysterious to him and required a visual interpretation to gain an appreciation of them. If he recalls correctly, their probable source was in the Yakima River Valley of Washington, an area of gouged landscapes with volcanic soils. That is to say, the loess gouged out of the Yakima Valley was transported by wind and re-deposited along the banks of the Mississippi River at Council Bluffs, Iowa. Proving such things is what some geologists are routinely expected to do. Also along the way, he finished the last of the sandwiches he had packed from home. Coping as a Footloose Forester often meant carrying the kinds of supplies most likely to be needed, so having food in his duffel bag was an essential item.
From Minneapolis west all the way to Montana was on the Northern Pacific Railroad. Along the way, he remembers meeting a Montana cowboy who was returning from an enlistment in the US Army in Germany, and a young girl who was taking a summer job at Glacier National Park. The reason he remembers them both is because of the conversation they shared before the cowboy disembarked at Big Sandy, Montana, his home town. She was from New Hampshire and her naiveté was unmistakable. She asked us where we were from, and when the cowboy said he hailed from Big Sandy, Montana, she then asked him where that was. He explained that it was a little place on the high plains. She then asked him what he did there. He replied that he was a cow puncher. She asked again, "a what?" He again replied, "a cow puncher." Then, with a blush on her pretty face, she once again asked, "What's that?" Footloose Forester could not help but chuckle when he said, "Shucks, ma'am, I'm a cowboy." You just can't make this stuff up.
The cowboy got off a few stops later at Big Sandy and she got off at the West Glacier stop, a little further on. Footloose Forester disembarked at Libby, Montana; but for the life of him cannot remember the slightest thing about the station or how he went the final miles to his duty post. Funny how one remembers some things in great detail, but cannot remember other things, at all.
Related Posts
Comments
No comments made yet. Be the first to submit a comment