On the road…again!!!
Afghanistan to Zambia
Chronicles of a Footloose Forester
By Dick Pellek

Giving Up Barbershops

Except for the one time he went to a barber in Gainesville, Florida before leaving for the Organization for Tropical Studies study program in Costa Rica in 1970, the Footloose Forester decided to give up barbershops, starting in 1966. Giving up barbershops for the remainder of his life came about out of frustration, more than disdain for sitting in a chair and hoping that the result would be satisfactory. That decision was over 40 years ago, and the Footloose Forester does not regret it.
The first episode with doubt about barbers, in general, came when he was a soldier in Germany.  We had to cut our hair every two weeks or be nagged by officers and NGOs in the battalion.  But coming back one day with blood on both ears, compliments of our friendly German barber, set the thought process into motion.
The next episode was as a Peace Corps Volunteer in Pakistan. Our West Pakistan Forest School in Bahawalpur had its own barber; and haircuts were cheap enough, perhaps the equivalent of 20 cents.  But the young barber, eager to please, always insisted on taking his straight razor close to your eyes to trim off the eyebrows to his satisfaction, not yours.  Then he would use that same weapon to trim out the hair in your ears--every time.  Finally, the Footloose Forester decided that enough is enough. He declined to get another haircut until he was "On the road....again" in Thailand.
After the Thai barber also froze him into a helpless position with a straight razor to the eyebrows, he decided to quit barbers, cold turkey.  So it was that he went looking for a trim comb; and determined henceforth to do it himself.  That first attempt was also in Thailand, but fortunately, it was in front of a full-length mirror, with a second mirror held in the other hand to check behind his head.  The result wasn't too bad; and he has been cutting his own hair, off and on, for the last 40 years; and until he got married.  In addition to using a trim comb, he learned to control cutting a trim line with scissors and two mirrors.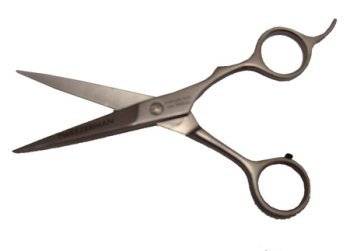 His Bengal Tiger wife took it upon herself to learn how to cut his hair and is, in reality, a very accomplished barber. She decides when to do the job, but since his hair is quite thin now compared to what it used to be, the sessions in the well-lit bathroom take place once every 2-3 months or so.  He has never mentioned to her that when she promises to cut his hair, and she is more than 2-3 weeks late, he still goes to his faithful trim comb and takes care of the shagginess that tends to bother him.  Once in a while, she makes a comment about how awful it looks; and that would be at those times when he tried but failed to make an even trim in the back, with the use of mirrors.  Not to complain, but sometimes he had to wait as long as two months to get the haircut she promised,  so it was easier to rely on the trim comb and just keep quiet about it.  
Related Posts
Comments
No comments made yet. Be the first to submit a comment