Virtual Flight Around A Volcano
On the road…again!
Afghanistan to Zambia
Chronicles of a Footloose Forester
By Dick Pellek
Virtual Flight Around A Volcano
Foresters rely on more than their feet. A few foresters have more experience in helicopters than most professionals outside of the military services. This Footloose Forester certainly does. One memorable episode occurred when he was a Volunteer in an Overseas Cooperative Assistance (VOCA) consultantcy in El Salvador, in support of the Ministerio de Agricultura y Ganadaría. The objectives of the month-long consultancy were to assess land use and vegetation cover management in Parque Nacionales los Percoles near San Salvador; and in the checkerboard terrain in the vicinity of Los Andes National Park in the volcanoes region of El Salvador.
The region contains several spectacular volcanoes. Santa Ana Volcano is the highest and is a major tourist attraction. Nearby Volcan Izalco is smaller but even more spectacular. Santa Ana can be viewed on a Google Earth satellite photo at N 13° 50′ 58.68″ and W 89° 37′ 42.13″. The virtual visitor cannot miss then seeing the symmetrical magnificence of nearby Izalco.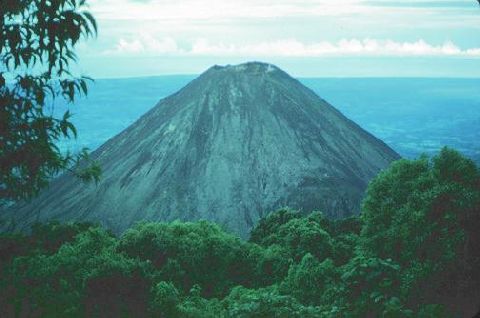 Izalco Volcano
On the slopes of Santa Ana and Izalco, two of the most impressive of tourist attractions in all of El Salvador, the stewards of the land sometimes use helicopters to assess how best to protect what they have. Scrambling up the slopes is still feasible, but not nearly as much fun. In any case, the Footloose Forester couldn't resist the urge to climb Volcan Izalco because it is so iconic as a nearly perfect cone. Foresters please note: that dry, ash drenched cone that is seemingly devoid of vegetation has two fairly healthy pine trees growing on its slopes, about half way up and situated in a line between the top and in line with the trail from the hotel Monte Cerrado, just across the way.
A quick flight in the Google Earth flight simulator will let any reader pick out the exact place where the pine trees are growing. It will require, however, that the reader have access to a computer and have a recent version of Google Earth installed. To start your flight, start at the rim of the caldera at the apex of Volcan Izalco at N 13° 48′ 46.66″ and W 89° 37′ 51.24″ and align yourself with the hotel complex across the way. The marvelous flight simulator lets you fly entirely around the volcanic mountain until you find (maybe) what you are looking for—two lonely pine trees on an otherwise barren cinder cone. The flight might be a virtual simulation, but the satellite photos of the database are real. You may also be able to see a few hints of smoke coming from one of its fumaroles near the rim. Up close, however, the smell of sulfer coming from the fumaroles is a reminder that Volcan Izalco is still active.
Related Posts
Comments
1
Is there any place you have not been. I mean any place you have not been where there has been an amazing event? Incredible. Even a volcano!
Is there any place you have not been. I mean any place you have not been where there has been an amazing event? Incredible. Even a volcano!