Ray Zukowski viewing the past 75 years
Being born the first son of the first son of John Vincent Zukowski, gave me that special privilege of being heir to the families throne...
and prince Raymond knew he would be king someday, or at least he tried to make his younger brother know he was dealing with royalty.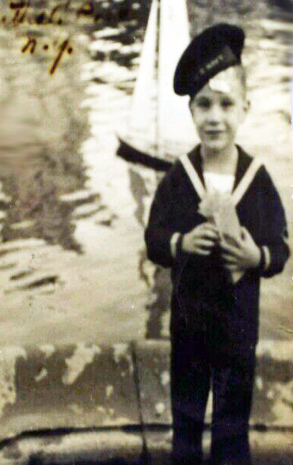 My earliest memory happened when I was four years old in 1943 during the height of WWII. I remember wearing my little sailor suit and hat as mom was telling me that our country was fighting a war in Europe.
She said I could help. How could a kid do that? Mom said there was a rubber drive for the war vehicles and everyone needed to find things made of rubber and donate them for the war effort...Well, let me tell you the rest of this story in my own voice and give you all the important details, click on the link below.
As seen on LegacyTalks


I have already started building my Family Tree on MemKpr.com and invite you to see what I have done so far to help tell my story. Click on any of the links below to check out what I was doing over my 75+ years here on Earth. I still have lots of work to do. I think it is most important for each of us to make sure the stories we lived are amoung the first for us to record and save. If each of our living relatives will do the same, then our families stories. We are the first generation over 65 who have been blessed with the modern tools of today. Can you imagine what would have happened if these digital tools had been invented 1000 years ago? If you don't want to take the time to learn how to use these new tools, take the easy way out and spend a few dollars to get it done for you. The old way was to spend thousands of dollars to publish a book to tell your family story. Today you can get it done for a few hundred dollars on the Internet and share your story with millions of people around the world.
I would like to invite you to view what I have been working on. Check out my life's story, click this LINK
Ray
Comments
No comments made yet. Be the first to submit a comment