J. Reed and Lucy Taylor Cornaby
J. Reed and Lucy Cornaby have been married for 65 years and have lived in Salem for 32 years (Lucy Taylor was born and raised here.) They have 7 children, 30 grandchildren and 60 great grandchildren.
They have found Salem to be a very sociable and understanding place to live because of the good people living here.
After Reed was released as bishop, both of them had a desire to look into the city organization to see if they could be of service. The Mayor welcomed them and gave them an assignment with the culinary water system. At that time all they knew about it was that the water came to them in a piipe from the springs being developed at that time. It turned out to be a very interesting project to them. They were then asked by the Mayor to map out Salem City's growth pattern for the next 10 years and were surprised at how close they were to the engineer's prediction.
They have been Grand Marshals for the Salem Days festivities and at present they are raising 20 plus acres of raspberries.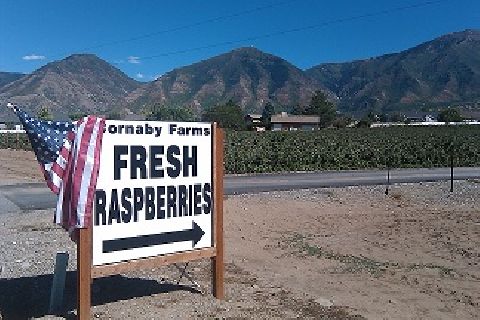 Salem Canal Road- Cornaby Farms Raspberries, 3 Sep 2012
May the Lord bless our Seniors.
---------------------------
From "Senior Spotlight", Salem City Newsletter, March 2012, p 3.
Comments
No comments made yet. Be the first to submit a comment