On the road… again!
Afghanistan to Zambia
Chronicles of a Footloose Forester


By Dick Pellek
Looking for Suzie
When we lived in Honolulu, Thu and the Footloose Forester chose to seek out a church where we would be comfortable. The very old, traditional, but decidedly frumpy cathedral in Waikiki had far fewer parishioners than we thought was appropriate for its size; and just maybe some local families also thought the same thing, since we could not see many worshipers that were readily identified as families. We liked to attend services early, and it was an easy walk from our condo just two blocks away. Early services were never more than 10% filled. Of course, the later Masses had lots of tourists from the mainland, so they tended to be too crowded for our liking. You have to give credit to the pastor, however; one of the later Masses was sung in the Hawaiian language, so was unique in its own way.

One time we remember attending when a young woman was the sole cantor at a later Mass. She must have been a professional singer because her cadence and tonal range was so incredible that we were mesmerized just listening to her. But she was scheduled for the 10:30A.M. Mass, and we were not keen in being tied up in the swell of traffic during those hours.
Then there was the inconspicuous church behind a shopping center. We attended that one after we moved from one apartment to another. It was convenient because it was right behind the Holiday Mart, a supermarket that was open on Sundays, and for 24 hours a day. Frankly, we must admit, the pastor did not connect with his parishioners and he himself seemed to be bored during each and every service. The reason we thought so was because he would yawn several times throughout the Mass. It got to be so annoying that we started picking up on his yawning, even counting how many times he yawned. We called him Father Sleepy.
After attending a few other churches, Thu and the Footloose Forester decided that we liked the young priests and sisters (and a couple of older ones) at the Sacred Heart Church just across from the Punahou School where Barack Obama attended as a youngster. Sacred Heart Parish was vibrant and had lots of folks who acted young and who sang the religious songs with gusto. Sacred Heart had a real sense of community and we were happy to join in that community.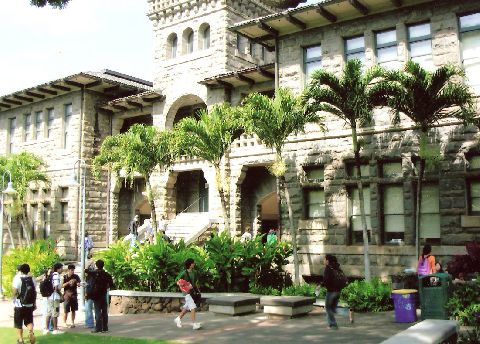 Pauahi Hall, Punahou School
Sacred Heart also had Suzie. Suzie was an 11 year old Japanese girl who caused the Footloose Forester to act in a strange way. A few months after we started going exclusively to Sacred Heart, the Footloose Forester noticed that he broke into a smile every time he spotted Suzie coming in with her mother. They would sit somewhere in front of us, so had to pass by. Usually we were early, and when Suzie passed, Thu would notice a smile starting to spread on his face. The more we attended, the bigger the smile was.
Since we usually didn't talk in church, after a while Thu started to look for the smile on the face of the Footloose Forester when Suzie passed by.

Eventually, he himself started to question why the uncontrollable smile came over him. Finally, one day he figured it out. Each time he looked at 11 year old Suzie (a name he chose to remember her by) he was seeing a young version of his future wife. What a privilege, to look into the past and see the girl that you were going to marry! So each and every time Suzie passed by, he thought that she looked exactly like, and acted like Thu. Perhaps it was fantasy, but just seeing Suzie filled his heart with joy. His wide smiles gave his joy away. He, of course, told Thu, but only after he was able to explain what had come over him. She confirmed that when she was eleven years old, she did look and act almost exactly like Suzie.
Related Posts
Comments
1
How prophetic Dick. To see your future in another person's face is remarkable. Nice story.
How prophetic Dick. To see your future in another person's face is remarkable. Nice story.