Going Inside An Egyptian Pyramid Wasn't On the Bucket List
On the road…again!
Afghanistan to Zambia
Chronicles of a Footloose Forester
By Dick Pellek
Ancient history meant too many things about too many places when Footloose Forester was a child.  He only knew that it was complicated and that people who studied such things didn't know the complete story.  So it was always on the mind of the Footloose Forester to somehow go to Egypt... and to Rome ....and to Greece..., as a minimum in getting a first-hand look, as things on his bucket list.  Little by little, those quests were satisfied.  First was Rome by car in the 1960s; then to Egypt and Greece by way of stopovers along planned vacation routes in the 1990s. History is still mysterious, but the memories of colossal edifices made believing in history most vivid and satisfying.
The first sight of Egypt was from about 8000 feet above the Nile River.  Any higher and the Nile River delta was obscured by dust particles blowing off the Sahara Desert.  Lower down, the ribbon of green agricultural fields adjacent to the Nile contrasted vividly. Where the irrigation systems faded out (about two miles wide on either side of the Nile), the ochre sameness of the Sahara consumed everything else. 
Footloose Forester had wanted to climb a pyramid but thought that the chances of doing so were going to be slim.  He settled for going deep into the center of a minor pyramid near Memphis. You can see it clearly by zooming in with a Google Earth photo at N 29° 47′ 24.23″ and E 31° 12′ 34.82″.  The great pyramids of Giza are about 20 miles away; and although Footloose Forester had those in mind, as well, he settled for walking entirely around the largest pyramid of Cheops.  The perimeter around its square-dimensioned base was over 1300 feet on a side, making it the largest building in the world at the time it was built; and it is still among the largest buildings in the world!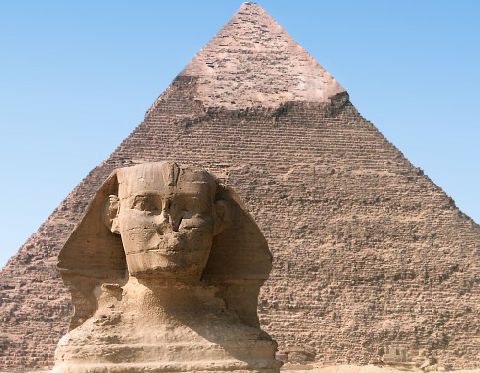 The Sphinx is close to the great pyramid of Cheops and is thought to be older
Lately, he has been following clues in a National Geographic special on the "lost pyramid of Egypt" about one of the obscure pyramids, some miles to the north.  It is heavily hyped in the TV documentary but makes for first-rate TV, nonetheless. The site of the pyramid (or sun temple, as has been suggested) is easy enough to find on the Google maps.  It does take some work and a fair amount of interpretation, but that is the essence of map work.  Always was, always will be.  Google Earth makes it infinitely easier to conceptualize.
Comments
No comments made yet. Be the first to submit a comment