Getting Along in Polyglot
On the road….again!
Afghanistan to Zambia
Chronicles of a Footloose Forester
By Dick Pellek
São Jorge dos Orgãos, Cape Verde
People, places and events are sloshing around in his memory in such an unconsolidated way that it would be fair to describe the state of affairs as a mental soup, with individual places, people and events as ingredients that can be plucked out and savored, one at a time. As time passes, these chronicles are beginning to wander more off the mark because some people and events came and went too quickly in order for the Footloose Forester to properly understand them and then attempt to describe the context. Often, those ingredients of memory come in a dream and he is encouraged to assign them to paper, lest they cease to make any sense at all. Such is the case with this present reverie. It came in a dream, although the ingredients of people, places and events jumped around just as one would expect of dreams. Here, nevertheless, is an attempt to straighten a few things out.
The primary agricultural research station of the Republic of Cape Verde was located about 17 miles outside of the capital city of Praia in a narrow valley that had a one-lane road leading in and out. The short three mile drive up the valley from the main road to São Jorge dos Orgãos ended under the shadows of an imposing ridge line.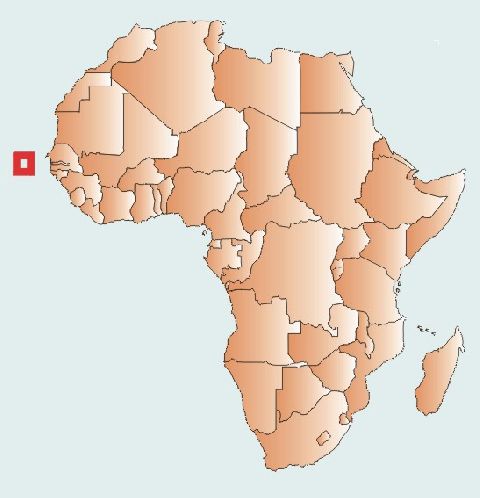 Cape Verde is 250 miles off the coast of Senegal
As he remembers it now, the road did continue a bit past the relatively flat expanse of ground upon which the research station itself was situated, then pitched steeply upward and culminated at a small fan of cleared and level ground where the motorist was obliged to turn around. The crenulated ridge above did not even have a foot trail to the top. That short stretch of steep road was the main ingredient in the soup of this chronicle memoir. It was where the Footloose Forester usually went for his daily run. Granted, a one mile run was not much of a challenge as a workout, but this pitch was steeply uphill all the way from his house to the top where the turnaround was. During one of his morning runs, the Footloose Forester found out that his new neighbor and fellow researcher from Austria was a world-class athlete. Franz Horner came to São Jorge unannounced, as had most others before him and after him. We only knew that somebody was coming and that they were going to occupy the empty house next door.
When Franz and his Bulgarian wife Snezea arrived, the small cadre of researchers exchanged introductions on a catch-as-catch-can basis, the most common way things were done at São Jorge. But within a few days, and after Franz and wife were settled in, the Footloose Forester learned that Franz had competed in decathlon on the Austrian Olympic Team. Franz was a very modest man and never bragged about himself, in any way--or about anything. So when Footloose Forester was huffing and puffing as he approached the ¾ distance marker near the top of the hill and heard Franz coming up quickly behind him, he realized that Franz was going to pass him. Franz wasn't even breathing hard! Small wonder that Footloose was dying to ask him how he managed to run nearly a mile uphill without breaking into a sweat. That was perhaps when we started to share many an adventure in outdoor sports.
The small staff of research specialists at São Jorge was composed almost entirely of expatriate representatives of international development organizations. Most were serving long-term assignments in behalf of their own country. Franz served with the Austrian aid organization, although he probably did not have official status as a diplomatic appointee. There were others, with their own colorful stories and backgrounds. Another Austrian who preceded Franz at São Jorge was Georg Scheilbelreider. He had resided in Cape Verde with his Ghanaian wife for at least two years before we showed up. Eventually, another Austrian and his wife came along for an assignment that overlapped the other Austrians in terms of time scales, but linked with us in terms of outdoor adventures. Fritz, a jovial guy that we liked immediately, was also a master sausage maker, and we rejoiced when we tasted his products. Not to exclude the females, but the gals most times declined to join us on spear fishing or diving expeditions. Tiger Thu was the exception. We have perhaps forgotten more adventures than we remember.
One point that is helpful to explain in these chronicles concerns the use of language. We were all expatriates, to some extent. That is to say, some people like Georg Scheilbelreider at São Jorge were long-term expatriates because he really enjoyed his work overseas, was good at it, and the Austrian government continued to sponsor him and his scientific endeavors for the good of everyone. The Footloose Forester was a conditional expatriate, partly because his assignments were normally dependent upon the funding to support his presence. When the contract term ran out--or the funding-- that was usually the end of his involvement. So, it was a career in which we bounced around to different countries, to work on various projects. During the course of coming and going, we got used to meeting other expatriates with similar work histories; and similar solutions when it came to dialoguing with co-workers, host country officials and communal neighbors.
São Jorge was perhaps more expansive and diverse than most research stations because most of the researchers were born and raised somewhere other than Cape Verde. As an extremely poor nation with no colleges and only two high schools in the whole country, Cape Verde sorely lacked its own scientists. Nevertheless, everyone had to get along and to do so, it required using the language or languages that best met the objectives.
Portuguese was the official language, but Crioulo was the national language that Cape Verdeans spoke at home. The United Nations and Food and Agriculture Organization representatives normally used French in their daily functions, except when we got together for social events. As the situations dictated, we all used what we had in us. We had other friends who were expatriate researchers and who worked with FAO at another government building several miles away. A couple of them were Dutch, but most of them were Belgians because the Belgian government had put up the bulk of the contributed funds to finance a large reforestation project in Cape Verde. Although São Jorge was the primary research center, not many researchers lived on campus. Most colleagues and most sponsored events had links to other places. Going back and forth was the norm.
That brings this chronicle back to the point of being like a soup with people, places and events floating around in the dreams of the Footloose Forester. For the moment, the ideas that kept bobbing up were about the languages. Many examples abound: Franz Horner spoke German with fellow Austrian Georg Scheilbelreider; and with Tonio Hartmann, a German and another long-term expatriate. Franz spoke in English with Footloose Forester; and with the Cape Verdean Director at São Jorge. He also probably spoke German to his wife Snezea, who was so introverted (we thought) that we never heard her speak to anyone but her husband Franz. Georg Scheibelreider spoke German, French and Portuguese; and in English with us. The Flemish Belgians spoke Dutch with each other, English with the Footloose Forester, and used French in official duties. They also used Portuguese when dealing with Cape Verdeans, except with the officials. A couple of Walloon Belgians spoke French with each other and English with us. As part of the FAO or United Nations groups, they submitted their reports in French. The Footloose Forester spoke English with the educated elite, used Portuguese on the job with local Cape Verdeans, and French with a Turkish forest nursery specialist who was on a special assignment for FAO.
During a national seminar bringing together researchers from different locales, Footloose Forester presented his topic in Portuguese, but submitted his paper in English. All of the other expatriates presented their topics in French, except for one Belgian who spoke beautiful Portuguese; and a visiting American scientist who presented in Spanish. At social events, Portuguese was the default language to start things off; otherwise individual conversations devolved into Dutch, Crioulo, Portuguese, French, German and English. Once in a while the Soviets were present; and even the Chinese, so a rich diversity of languages could be heard. The Soviets usually chose to speak to others in English, but except for the younger Chinese diplomats, who spoke Portuguese as part of their years-long training for foreign service, the Chinese elders did not seem to mix well, so spoke only Chinese and only through their interpreters. You might say that polyglot was the lingua franca.
Related Posts
Comments
1
That is one of the most diverse groups of people in one place with the same mission I have ever heard of! How unique is that? You all found a way to communicate and work together, it is remarkable.
My best to you, Christine
That is one of the most diverse groups of people in one place with the same mission I have ever heard of! How unique is that? You all found a way to communicate and work together, it is remarkable. My best to you, Christine