Hitchhiking Is Now Just A Memory
On the road…again!
Afghanistan to Zambia
Chronicles of a Footloose Forester


By Dick Pellek
The Hitchhiker
Years before he would call himself the Footloose Forester, a restless boy who liked to be on the road, again…and again…and again, often saw places near home by hitchhiking there. His parents did not discourage him, although they may have been concerned when his travels became more and more distant.  They say that nothing succeeds like success, so perhaps it was natural of him to think that if he could regularly hitch rides from Netcong, New Jersey to New Brunswick where he went to college, maybe he could also hitch to other states.  In retrospect, not getting his first car until he was 21 years old, the satisfying of his urge to travel had to include other options. Hitchhiking was the main one, and was quite often an adventurous choice.
He knew a few stories about other hitchhikers being victimized; and sometimes the hitchhikers were the perpetrators, but he was determined to be observant in avoiding perilous situations and to put on a game face, if that became necessary.  On the other hand, he had a Pollyanna approach about the basic goodness of people. He picked up hitchhikers when he drove his brother's car; and tried to be transparently non-threatening when he was the one standing on the side of a roadway. There would be stories in the future, but nothing about which he was bitter.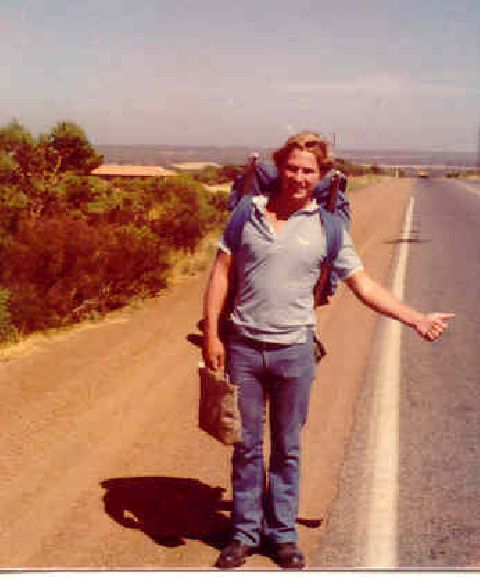 When he first contemplated writing a book, he thought it might be about hitchhiking.  The title "51 rides" now seems, in retrospect, to be silly and not as suggestive as he had intended.  Yes, it took 51 rides to get from Netcong, New Jersey to Placerville, California but after trying to make each ride into a story interesting enough to hold the attention of readers, the effort proved to be impossible.  Some of the rides were for only a few blocks in major cities like Knoxville, Tennessee and Beaumont, Texas; but a few of them were for hundreds of miles. Those are among the ones that the Footloose Forester remembers the best.    
During these days of Internet blogs and instant commentary, the Footloose Forester surfed upon a web page devoted to creating snapshot memoirs. The web masters at Smith Magazine impose their directive to all potential memoir writers to think of limiting memoirs to only 6 words.  That imperative, as an exercise at least, was standard fare when interviewers from Instant Memoirs conducted their sessions with authors.  When Footloose Forester wrestled with that proposition he came up with: Hitchhiking Student, Traveling Forester and Observer.
As the years went by, short trip hitch-hiking evolved into longer journeys. A few of the adventures were in foreign lands; such faith did he hold in the basic goodness of people of other cultures to communicate by their words and actions in sharing the long, lonely roads. The day would arrive; however, that he would acknowledge himself as a backpacker in spirit and in his chosen lifestyle. 
At the time of this present posting, time-stamped for veracity, he and his faithful travel companion of 44 years are …On the road…again! in Minnesota more than 1400 hundred miles from home in Virginia.  Another thousand miles are on the agenda before we turn back toward home.  But this time, we are traveling in the comfort of an air-conditioned automobile, not hitchhiking.

UPDATE: 27 NOVEMBER 2014
Past and often vague memories of hitch-hiking came in last night's dream.  The Footloose Forester recalls visiting old friends and colleagues around the country, the kind of adventure that always had a destination in mind, but usually without a travel plan.  Sometimes the visits were in his own car but many of the earlier trips were by hitch-hiking because he did not always have a car at his disposal.

The trip to a Forest Service fire tower in Montana to visit a college classmate had to be via his thumb.  A trip to his former Netcong, New Jersey acquintance in Prescott, Arizona was a round-trip affair from Phoenix, hitch-hiking both ways.  There were others, but the temporary clarity of the dream evaporated when he tried to put a few of them into this Chronicle.





 
Comments
No comments made yet. Be the first to submit a comment